Filipino Style Recipe: cassava cake is another sweet Filipino delicacies. It is made of grated cassava(Kamoteng Kahoy) as main ingredients then mixed with condensed milk, coconut milk, eggs, butter and macapuno or young coconut strips. Topped with creamy milk mixture then baked until firm and golden brown. This cake has a thick and soft consistency and chewy and spongy texture.
Estimated time of preparation and cooking: 60-80 minutes
Ingredients: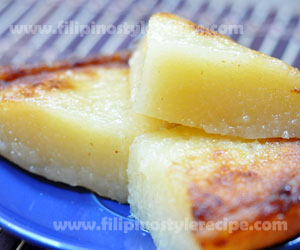 Cassava Cake:
2 packs(16 oz.) grated cassava
1 can(14 oz.) condensed milk
1 can(14 oz.) coconut milk
1/4 cup melted butter
2 pieces eggs, beaten
1/2 bottle macapuno
2 cups brown sugar
1/2 teaspoon salt
Topping:
1/2 can condensed milk
1/2 can coconut milk
1 egg yolk
1/2 bottle macapuno
Procedures:
Part 1
1. In a large bowl, combine cake ingredients. Mix well
2. In a baking pan, grease with butter then pour the mixture.
Part 2
1. Bake over 350 degrees Fahrenheit for about 45 minutes or until firm.
2. In a bowl, mix topping ingredients then spread evenly over cake.
3. Bake again for another 15 minutes or until top turns to golden brown.
4. Remove from the oven and let it cool before slicing. Enjoy!
Notes:
1. grated cassava is available in grocery stores under frozen section.
Comments
comments
Powered by Facebook Comments