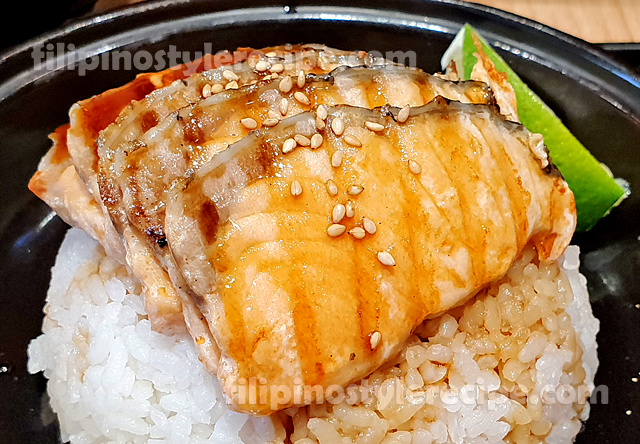 Ingredients:
500 grams Salmon fillet, cut into serving pieces
3 tablespoons olive oil
4 tablespoons lemon juice
1 teaspoon sesame seeds (optional)
salt and ground black pepper to taste
Sauce:
4 tablespoons teriyaki sauce
2 tablespoons oyster sauce
1 teaspoon brown sugar
1 teaspoon Spanish paprika
1 teaspoon grated ginger
1/2 teaspoon sesame oil
1/2 teaspoon cinnamon powder
Procedures:
Part 1
1. Marinate salmon in olive oil and lemon juice for 5 minutes. Drain.
2. Rub salmon with salt and pepper both sides.
3. Grill each side for 5 minutes or until cooked. Set aside.
Part 2
1. In a non-stick pan, combine sauce ingredients then add grilled salmon.
2. Simmer for 3-5 minutes or until reduce in half.
3. Transfer into serving plate then sprinkle with sesame seeds. Drizzle with remaining sauce.
4. Serve with steamed rice and sliced lime.