Filipino Style Recipe: binagoongang baboy or sauteed pork in shrimp paste is another popular Filipino dish. The pork pre-boil and saute until light brown then cook in shrimp paste and chili peppers. This is usually serve together with fried eggplants and has a salty-sweet and spicy flavor. Some adds coconut milk for more flavor and creamy taste.
Estimated time of preparation: 15 minutes
Estimated time of cooking: 40-50 minutes
Good for 4-5 persons
INGREDIENTS: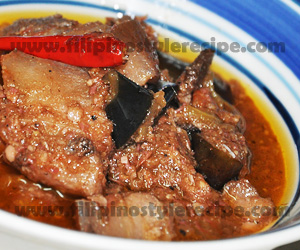 1 kg pork liempo or any other part with fat(cut into chunk cubes)
1/2 cup bagoong alamang (pre-sauteed salted shrimp paste)
1/2 head garlic, minced
1 large size onion, chopped
2 large size tomatoes, chopped
3 pcs. bay leaf
1 teaspoon black pepper, cracked
4 chili peppers(labuyo), chopped
1/2 cup vinegar
4 tablespoons brown sugar
1 large eggplant; cut in slices
cooking oil
PROCEDURES:
Part 1
1. In the frying pan, fry eggplants until color turn to brown. Put in the strainer and set aside.
Part 2
1. In a pan, place pork, water, bay leaf and peppercorns then boil in a low heat for 20 minutes or until tender. Add more water if necessary.
2. Stir fry until start to render oil and color turns to light brown. Set aside.
Part 3
1. In a same pan, saute garlic, onion, chili peppers and tomatoes until soft.
2. Add pork and shrimp paste then stir cook for 5 minutes. Add a little water if necessary.
3. Add vinegar and brown sugar then continue cooking for another 5 minutes in low fire.
4. Add fried eggplants then transfer to serving bowl. Serve with steamed rice
Comments
comments
Powered by Facebook Comments