Filipino Style Recipe: Papaitan or Pinapaitan is another popular Filipino soup dish that was originate from Ilocos region. It is consist of ox or goat tripes and innards cooked in bile and sampalok or calamansi juice that gives the soup of sourness and bitterness taste.
Ingredients: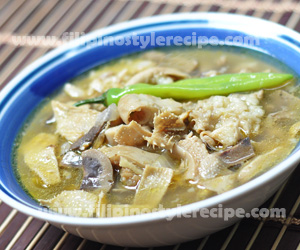 1 kilo ox tripe/innards
1/2 cup diluted ox bile
2 thumb-sized ginger, cut into strips
1 head garlic, chopped
2 medium-sized onion, chopped
5 pieces green chili(siling haba)
8 pieces calamansi
fish sauce or salt and pepper to taste
Cooking procedure:
Part 1
1. In a pot, Boil 4 cups water with 1 tablespoon salt.
2. Add ox innards and simmer for 30-50 minutes or until tender.
3. Drain and let it cool. Slice into small pieces then set aside.
Part 2
1. In a pot, heat oil and saute garlic, onion and ginger.
2. add ox innards and continue sauteing for 3 minutes.
3. Pour 4 cups of water and simmer for 10-15 minutes. Add water if needed.
4. Pour bile and simmer for another 5 minutes.
5. Add green chili, calamansi juice, salt and pepper. Simmer for 3 minutes.
6. Adjust seasoning according to taste. Remove from heat then serve hot.
Comments
comments
Powered by Facebook Comments