Filipino Style Recipe: Tinolang Manok(Chicken Tinola) or Filipino chicken ginger soup is one of the common dish in the Philippines. A simple Filipino recipe that is relatively easy to cook. Here is the basic and easy to follow recipe. Happy cooking!
Estimated time of preparation and cooking: 45-50 minutes.
Good for 4-6 persons.
Ingredients :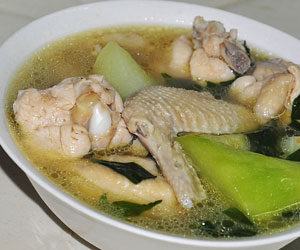 1 kilo chicken, cut into serving pieces
2 pieces chayote squash(sayote) or green papaya, cut into small pieces
1 cup chili leaves or malunggay leaves
1 thumb-sized ginger, cut into strips
4 cloves garlic, crushed
1 onion, chopped
2 tablespoon fish sauce(patis)
1 litre of water or rice washing
4 tablespoon vegetable oil
salt to taste
Procedures :
1. In a sauce pan, heat oil over medium heat then saute ginger, garlic and onion.
2. Add chicken, fish sauce, ground pepper and continue sauteing until the color chicken turn to light brown.
3. Pour water then simmer for 10 minutes or until chicken is tender.
4. Add in chayote then continue simmering for another 5 minutes.
5. Adjust seasoning according to taste then add chili leaves then turn off the heat.
6. Let stand for a few minutes to cook the leaves then transfer to a serving dish and serve. Enjoy!
Comments
comments
Powered by Facebook Comments