Filipino Style Recipe: Fish fillet curry is another variety of mouth-watering curry dish. This is similar to other curry dish. Normally the fish marinade then cooked in a blend of curry powder and coconut milk together with potatoes, carrots and bell peppers. Add half of red chili for more spicy taste. This dish is usually serve as main dish or during Lenten season.
Estimated time of preparation: 30 minutes
Estimated time of cooking: 15-20 minutes
Good for 2 servings
Ingredients: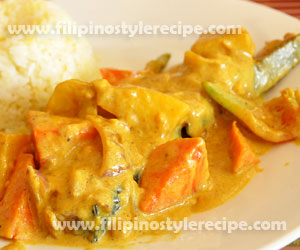 1/2 kilo fish fillets(tuna, salmon, lapu-lapu, tanigue)
2 tablespoons curry powder
1 cup coconut milk
1 onion, chopped
3 cloves garlic, minced
1 thumb-sized ginger, minced
1 tablespoon fresh lime or calamansi juice
2 pieces potatoes, cut into cubes
1 pieces carrots, cut into cubes
2 pieces green and red bell peppers, cut into cubes
2 tablespoons olive oil
salt and pepper to taste
2 tablespoons cornstarch(optional)
1/2 red chili, sliced diagonally(optional)
Procedures:
Part 1
1. In a bowl, marinate fish with lime juice, pepper and salt for 30 minutes.
2. In a separate bowl, combine curry powder, coconut milk and cornstarch. Mix until dissolved.
Part 2
1. In a pan, heat oil then fry potatoes and carrots until light brown. Drain and set aside.
Part 3
1. In a pan, heat oil and saute ginger, garlic and onions.
2. Add the curry mixtures then stir and bring to boil.
3. Add fish then simmer in a low heat for 10 minutes or tender. (Do not stir but prevent fish from sticking.)
4. Add bell peppers, potatoes and carrots then season with salt and pepper according to taste. Simmer for another 2 minutes.
5. Transfer the fish into serving plate with sauce on top. Serve hot with steamed rice.
Comments
comments
Powered by Facebook Comments