Filipino Style Recipe: fried garlic chicken recipe is normally the chicken comes fried in a crispy batter.
Estimated time of preparation: 10 minutes
Estimated time of cooking: 20-30 minutes
Good for 4 servings
Ingredients: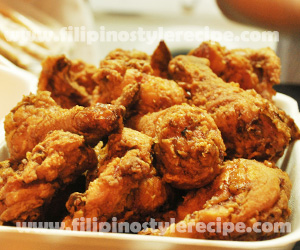 500 grams chicken fillets, cut into serving pieces
1 tablespoon all purpose flour
3 teaspoon garlic powder
1 teaspoon ground pepper
1 teaspoon salt
2 teaspoon paprika
1 egg
1/2 cup milk
vegetable oil for frying
Procedures:
Part 1
1. In a bowl, combine flour, garlic powder, paprika, salt and pepper. Mix well.
2. In another bowl, combine the egg and milk. Mix well.
Part 2
1. Dip each chicken pieces to egg mixture, then thoroughly coat to flour mixture. Set aside.
Part 3
1. In a frying pan, heat vegetable oil and deep fry chicken for 5 minutes or until color turns to golden brown.
2. Drain on paper towel.
Part 4
1. Transfer the chicken to serving plate serve with desired dip such ketchup, mayonnaise or  mustard.
Comments
comments
Powered by Facebook Comments