Filipino Style Recipe: glazed carrots recipe is a quick and healthy meal. It is mainly made up of carrots boiled in salted water then cooked in butter and sugar. If using, you may add maple syrup and cinnamon.
Estimated time of preparation: 5 minutes
Estimated time of cooking: 15 minutes
Good for 4 servings
Ingredients: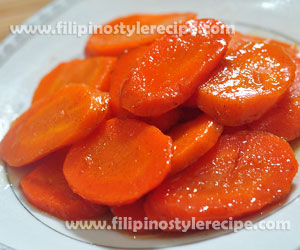 500 grams carrots, peeled and slice into 1/4 inch disks or diagonally.
3 tablespoons butter
1 tablespoon sugar
1/4 teaspoon white pepper(optional)
1/8 teaspoon cinnamon(optional)
2 tablespoons of maple syrup(optional)

Procedures:
Part 1
1. In a sauce pan, pour water with salt and bring to boil. Add carrots, cover and then cook for 5-8 minutes or until crisp-tender. Drain well.
Part 2
1. In a sauce pan, melt butter over medium heat then add the carrots.
2. Add the maple syrup then sprinkle with cinnamon, sugar and white pepper. Stir well.
3. Cook until the juices are reduced to a glaze.
4. Remove from heat. Serve hot!
Notes:
1. You may use baby carrots instead.
Comments
comments
Powered by Facebook Comments