Filipino Style Recipe: macaroni salad recipe is usually made with macaroni noodles, mayonnaise, condensed milk and all-purpose cream. Add with fruit cocktail, raisins, kaong, nata de coco and cheese make the recipe more delicious. This is usually served as appetizer.
Estimated time of preparation and cooking: 20-30 minutes
Good for 4-6 persons
Ingredients: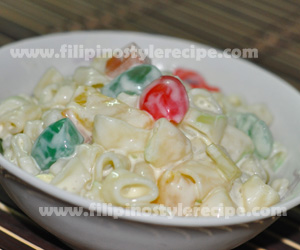 500 grams macaroni noodles
500 ml mayonnaise
2 cans Condensed Milk
2 cans All-Purpose Cream
1 medium-sized Del Monte Fruit Cocktail
1 cup Cheddar Cheese, diced or shredded
1/4 cup Raisins(optional)
1-1/2 cups Nata de Coco(coconut gel), drained(optional)
1 bottle Kaong(Red), drained(optional)
1 bottle Kaong(Green), drained(optional)
Procedures:
Part 1
1. Cook macaroni noodles according to package cooking instructions. Set aside and let it cool down for about 15 minutes.
Part 2
1. In a large mixing bowl, transfer the macaroni and add the rest of the ingredients. Mix well.
2. Cover the mixing bowl and refrigerate for at least an hour.
3. Serve cold. Enjoy!
Comments
comments
Powered by Facebook Comments