Filipino style recipe: nilagang baboy or pork stew recipe is another simple pork dish. Normally the pork boiled until tender then add onion, peppercorn, salt, potatoes, cardava banana, cabbage and green beans.
Estimated time of preparation and cooking: 30-40 minutes
Good for 3-4 servings
Ingredients: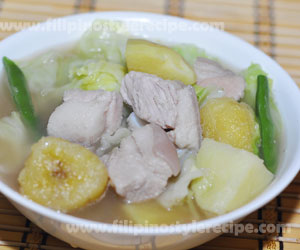 500 grams pork(choices of belly, ribs or any bony parts of pork), cut into serving pieces
7 cups water(depends on your preference)
1 onion, sliced
1/4 teaspoon peppercorn
1 piece pork bouillon cube(optional)
2 potatoes, quartered
1 bundle bok choy(Pechay) or cabbage leaves(repolyo), cut into serving pieces
3 pieces cardava banana(saging na saba), cut into 3-4 pieces(optional)
1 bundle green beans(optional)
fish sauce or salt to taste
Procedures:
Part 1
1. In a large casserole, place meat and add water. Set over medium heat and bring to a boil and simmer until meat is tender.
2. Remove the scum as it rises.
Part 2
3. Add onion, peppercorn, pork broth cubes and sprinkle some salt.
4. Add banana and potatoes and continue cooking until potatoes are cooked.
5. Add the green beans. Simmer for 3-5 minutes.
6. Adjust seasoning according to taste.
7. Add pechay or cabbage leaves. Then remove from heat and leave for about 3 minutes. Do not overcook the green vegetables.
8. Serve hot with steamed rice. Enjoy
Notes:
1. You may also add 1-2 Japanese corn, cut into 3-4 pieces.
Comments
comments
Powered by Facebook Comments