Filipino Style Recipe: pork humba recipe is a Filipino dish basically pork belly cooked in vinegar, soy sauce and dried banana blossom. This recipe has a sweet and sour taste sauce. The banana blossom makes the recipe well blended that gives an extraordinary taste. This is another mouth-watering main dish that is truly enjoyed by most Filipinos.
Estimated time of preparation: 10 minutes
Estimated time of cooking: 1 hours and 10 minutes
Good for 3-4 persons
Ingredients: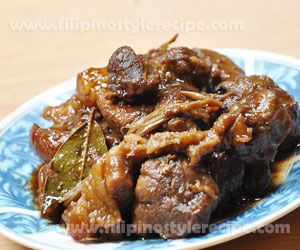 500 grams pork belly, cut into serving pieces
1 cup water
3 cloves garlic, crushed
1/3 cup vinegar
1/4 cup brown sugar
1/4 cup soy sauce
1 bay leaf
1 teaspoon peppercorns
1/2 cup dried banana blossoms(puso ng saging)
salt to taste
Procedures:
1. In a big pot, combine pork belly, water, soy sauce and garlic.
2. Simmer and bring to boil over low heat until pork belly is tender.
3. Add vinegar and simmer for another 3 minutes.
4. Add the bay leaf, banana blossoms, brown sugar, salt and simmer for another 5 minutes.
5. Adjust seasoning according to taste. Remove from heat and Serve. Enjoy!
Notes:
1. You may also add potatoes, hard-boiled eggs or salted black beans.
Comments
comments
Powered by Facebook Comments