Filipino style recipe: adobong kangkong or water spinach adobo is healthy yet affordable dish. Normally the water spinach(kangkong) cooked with pork in a blend of soy sauce, vinegar, salt and pepper.
Estimated time of preparation and cooking: 15-20 minutes
Good for 2-3 servings
Ingredients: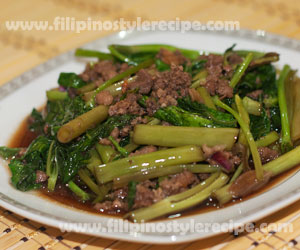 1 bunch water spinach(kangkong), cut into 2 inches
1/4 kilo ground pork or belly, cut into small pieces
5 cloves garlic, minced
1 onion, diced
1/4 cup soy sauce
1/8 cup vinegar
salt and pepper to taste
1 pork broth cube(dissolved in 1 cup hot water)(optional)
2 bay leaves(laurel)(optional)
1/4 teaspoon chili flakes(optional)
Procedures:
Part 1
1. In a saucepan, cook pork meat until color turns to light brown and start to render oil. Add oil if necessary.
2. Saute garlic, onion and chili flakes. Add pork stock, bay leaves, soy sauce, salt and pepper. Bring to boil.
3. Pour vinegar and simmer for 5 minutes. Adjust seasoning according to taste.
4. Add kangkong stalks and cook for 1 minutes then add kangkong leaves.
5. Cook for another minute then transfer to serving plate garnish with toasted garlic. Serve immediately.
Comments
comments
Powered by Facebook Comments