Filipino Style Recipe: Asadong Manok or chicken asado is a sweet chicken dish that was originated from Chinese. Normally chicken marinade of seasonings and boil it until tender. This is similar to pork asado.
Estimated time of preparation: 10 minutes
Estimated time of cooking: 30-40 minutes.
Good for 4-6 persons.
Ingredients: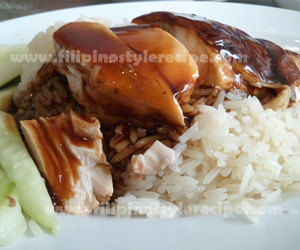 1 kilo chicken legs
2 tablespoons sesame oil
3 tablespoons Honey
250 grams Bok Choy(Chinese Petchay)(optional)
Marinade:
1/2 cup soy sauce
1/2 cup oyster Sauce
1/2 cup brown sugar
4 pieces star anise
1 thumb-sized ginger, grated
1 onion, chopped
5 gloves garlic, minced
1/2 teaspoon salt and pepper
Procedures:
Part 1
1. In a pot, combine all the marinade ingredients and marinate chicken for 1 hour.
2. Cover and simmer in a low heat until meat is tender. Add water if necessary. Set aside.
Part 2
1. In a non-stick pan, heat oil and pour a little marinade sauce.
2. Add bok choy and cook for 1 minute. Transfer to serving bowl.
Part 3
1. In a same pan, pour a little marinade sauce then add honey.
2. Add the chicken and cook again for 2-3 minutes. Transfer to serving bowl with bok choy.
Part 4
1. In a same pan, pour all the remaining marinade sauce. Stir and simmer until thicken.
2. Pour the sauce over the chicken then serve.
Comments
comments
Powered by Facebook Comments