Filipino Style Recipe: ginataang langka or jackfruit in coconut milk is another easy yet healthy food. Normally the jackfruit sliced and boiled. Then cooked with coconut milk together with shrimps or salted dried fish, season with salt and pepper.
Estimated time of preparation: 20 minutes
Estimated time of cooking: 30-40 minutes
Good for 5 persons
Ingredients: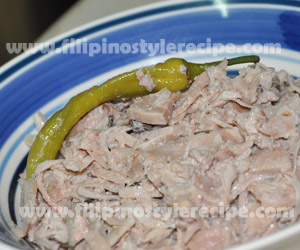 6 cups unripe jackfruit(langka), sliced
1 cup coconut cream(first extract)
2 cups coconut milk(second extract)
5 cloves garlic, crushed
1 large onion, chopped
1 thumb-sized ginger, sliced thinly
3 pieces green chili(siling haba)
200 grams medium shrimp or shredded salted dried fish(daing)
1 tablespoon vegetable oil
salt and pepper to taste
Procedures:
1. In a saucepan, heat oil and saute onion, garlic and ginger.
2. Add langka, stir and saute for a few minutes.
3. Pour coconut milk(second extract), simmer over low heat for 10 minutes.
4. When the sauce is almost absorb, pour coconut cream(first extract) and season with salt and pepper.
5. Cook for another 10 minutes or until langka is tender. Stir occasionally to avoid curdling.
6. Add fried fish and green chili, simmer until sauce is thickens and oily.
7. Transfer to serving bowl then serve.
Comments
comments
Powered by Facebook Comments