Filipino Style Recipe: spicy mixed seafood soup is another seafood dish that usually served by Filipinos mostly during rainy season. Another simple recipe but very healthy dish.
Estimated time of preparation: 10 minutes
Estimated time of cooking: 10-15 minutes
Good for 3-5 persons.
Ingredients: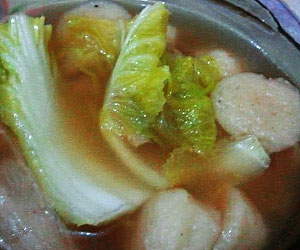 1/2 kilo mixed seafood(fish balls, kikiam, squid, scallops, shrimps, etc)
2 thumb-sized ginger, sliced
1 onion, quartered
1 tomato, quartered
2 pieces red chili pepper, sliced diagonally
salt and pepper to taste
5 cups water
1 stalk lemongrass, crashed and tied(optional)
1 Chinese Cabbage, quartered(optional)
Procedures:
1. in a saucepan, pour water and bring to boil.
2. Add ginger, onion, tomato and lemongrass. Cover and simmer for 5 minutes.
3. Add mixed seafood and red chili pepper. Simmer for 3 minutes or until seafood is tender.
5. Season with salt and pepper.
6. Add Chinese cabbage and simmer for a minute.
7. Transfer to serving bowl, garnish with celery then serve.
Tips:
1. You may also used kimchi to add color and spicy flavor.
2. You may also add mushrooms and other seafood if you desired.
Comments
comments
Powered by Facebook Comments