Filipino style recipe: stir fried cabbage or ginisang repolyo is another healthy yet affordable dish. Normally the cabbage sauteed with tomatoes and beaten egg. Pork or shrimps may added if desired.
Estimated time of preparation and cooking: 10-15 minutes
Good for 2-3 servings
Ingredients: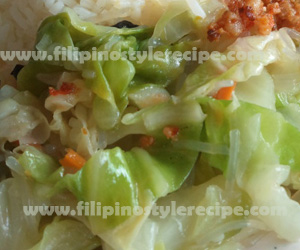 1 small size cabbage, shredded
2 eggs, beaten
4 cloves garlic, chopped
1 onion chopped
1 tomato, chopped
2 tablespoons fish sauce
salt and pepper to taste
1 tablespoon vegetable oil
Procedures:
1. In a pan, heat oil and saute garlic and onion.
2. Add tomato, stir fry for 2 minutes.
3. Season with fish sauce then add cabbage. Stir and cook until crisp-tender.
4. Adjust seasoning with salt and pepper.
5. Pour beaten eggs, stir until eggs are cooked.
6. Transfer to serving plate, then serve hot.
Notes:
1. You may also add pork or shrimp if desired.
Comments
comments
Powered by Facebook Comments