Filipino Style Recipe: sweet and sour sauce is a quick and easy recipe. It can be poured over a dish or used as a dipping sauce. Normally it's a combination of sugar, vinegar, soy sauce and catsup. Simmer over low heat then pour cornstarch or flour mixture.
Estimated time of cooking: 5 minutes
Ingredients: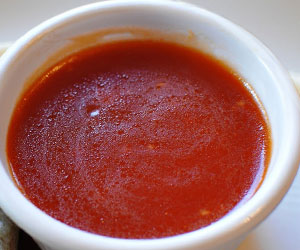 1/2 cup sugar
1/2 cup water
1/4 cup vinegar
2 tablespoons soy sauce
2 tablespoons catsup
2 tablespoons cornstarch(dissolved in 2 tablespoons water)
Procedures:
1. In a saucepan, combine sugar, vinegar, soy sauce, catsup and water. Bring to boil over low heat.
2. Pour cornstarch mixture and stir until thickened.
3. Transfer the sauce to bowl. Done.
Comments
comments
Powered by Facebook Comments