Filipino Style Recipe: Bopis is another popular Filipino dish specially in Pampanga Region. It is consist of pork heart and lungs boiled and then chopped into small pieces. Sauteed and cooked in vinegar together with chopped bell pepper, carrots and red chili.
Estimated time of preparation: 15 minutes
Estimated time of cooking: 20 minutes
Good for 4-5 persons
Ingredients: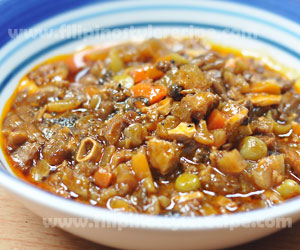 1/2 kilo pork heart and lungs
3 gloves garlic, minced
1 onion, chopped
1 cup water
1 tablespoon annatto seeds(dilute in 1/4 cup hot water)
3 pieces dried bay leaves(laurel)
1 medium red bell pepper, cut into small cubes
1 medium carrots, cut into small cubes
1/4 cup green peas
4 tablespoons vinegar
3 red chili(labuyo), chopped(optional)
Salt and pepper to taste
Procedures:
Part 1
1. In a pot, pour water then add heart and lungs. Boil for 10 minutes or until tender.
2. Drain and let it cool. Chop into small pieces and set aside.
Part 2
1. In a pan, heat oil and saute garlic and onions.
2. Add chopped heat and lungs.
3. Pour annatto water, bay leaves and add some water. Cover and simmer for 5 minutes.
4. Pour vinegar and bring to boil.
5. Add vegetables and season with salt and pepper. Cook until tender.
6. Transfer to serving plate then serve.
Tips:
1. You may used catsup as alternative instead of annatto seeds.
Comments
comments
Powered by Facebook Comments