Filipino style recipe: chicken steak or chicken bistek tagalog is normally the chicken marinade and stir fried until tender and garnish with onion rings. This is similar to beef steak and pork steak.
Estimated time of preparation and cooking: 40 minutes.
Good for 3-4 persons.
Ingredients: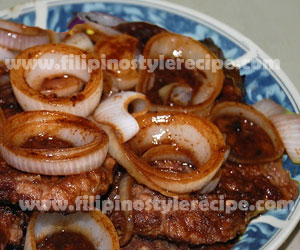 1/2 kilo chicken fillet
1 tablespoon calamansi juice
3 gloves garlic, minced
1 onion, sliced in rings
2 tablespoons soy sauce
1 teaspoon salt
1 teaspoon ground pepper
3 tablespoons cooking oil
Procedures:
Part 1
1. In a bowl, combine chicken, calamansi, garlic, soy sauce, salt and pepper. Marinate for 30 minutes inside the fridge.
Part 2
2. In a pan, heat cooking oil over medium heat. Lighty fry the onion rings. Remove from pan and drain. Set aside
Part 3.
3. In the same pan, Add the marinated chicken, stir-fry until tender and start to sizzle.
4. Transfer to a serving platter including the oil and sauce.
5. Garnish with onion rings.
6. Serve hot and enjoy!
Comments
comments
Powered by Facebook Comments