Filipino Style Recipe: honey barbecue spareribs is popular in American and Chinese cuisines. Usually the spareribs marinated then baked and base with marinated sauce until tender.
Estimated time of preparation: 10-15 minutes(plus marinating time)
Estimated time of cooking: 40-60 minutes
Good for 4-6 persons
Ingredients: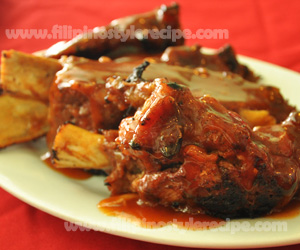 1 1/2 kilo pork spareribs, cut into serving pieces
2 tablespoons honey
2 tablespoons hoisin sauce
1 tablespoon oyster sauce
1 tablespoon soy sauce
2 tablespoons vegetable oil
2 teaspoon brown sugar
1 teaspoon salt
dash of garlic powder
2 tablespoons lemon juice(optional)
1 teaspoon paprika(optional)
Procedures:
Part 1
1. In a bowl, combine all the ingredients and mix well.
2. In a large container, arrange spareribs and pour the mixture.
3. Marinate for at least 3 hours.
Part 2
1. Preheat oven to 350 degrees Fahrenheit.
2. In a baking pan, transfer marinated spareribs.
3. Bake uncovered for 40-60 minutes or until tender. Brush with remaining glaze every 10 minutes.
4. Transfer to serving plate, served with barbecue sauce.
Comments
comments
Powered by Facebook Comments