Filipino Style Recipe: ginataang puso ng saging or banana blossom in coconut milk is another easy yet healthy dish. Normally the banana bud/blossom sliced then cooked with coconut milk together with shrimps or salted dried fish, season with salt and pepper.
Estimated time of preparation: 20 minutes
Estimated time of cooking: 15-20 minutes
Good for 4-5 persons
Ingredients: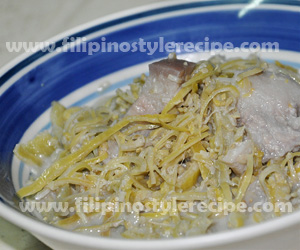 1 piece banana bud/blossom(puso ng saging)
100 grams pork meat, sliced into serving pieces
1 1/2 cups coconut milk
1 thumb-sized ginger, sliced thinly
3 cloves garlic, minced
1 onion, chopped
1 tablespoon vinegar
2 pieces green chili(siling haba), chopped(optional)
2 tablespoons vegetable oil
salt and pepper to taste
Procedures:
Part 1
1. Discard the outer reddish cover of the banana bud until you reached yellowish white part.
2. Slice thinly the bud lengthwise then chopped thinly across the grain.
3. In a bowl,combine salted water and banana bud. Soak for 15 minutes.
4. Drain and squeeze out all the juices. Set aside.
Part 2
1. In a pan, heat oil and saute ginger, garlic and onion.
2. Add pork and simmer until color turns to golden brown.
3. Add banana bud and cook for 2 minutes.
4. Pour vinegar, cover and simmer for 3 minutes. Do not stir.
5. Pour coconut milk, green chili and simmer until the liquid reduced. Stir occasionally.
6. Season with salt and pepper according to taste.
7. Simmer until sauce is thickens and oily.
8. Transfer to serving bowl then serve with steamed rice.
Notes:
1. You may also used shrimp or salted dried fish.
Comments
comments
Powered by Facebook Comments