Filipino Style Recipe: Igado is another pork meat and innards dish. It is consist of pork meat, liver, heart or kidney sauteed and cooked in a blend of water, soy sauce, vinegar together with carrots, bell pepper and green peas.
Estimated time of preparation: 15 minutes
Estimated time of cooking: 30-40 minutes
Good for 4-6 persons
Ingredients: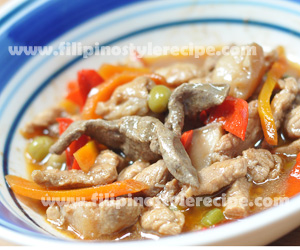 500 grams pork loin, sliced into strips
150 grams pork liver, sliced into strips
200 grams pork heart and kidney, sliced into strips(optional)
3 pieces bay leaves(laurel)
4 gloves garlic, crushed
1 large onion, chopped
2 tablespoon vinegar
1/4 cup soy sauce
1 cup water
1 medium-sized carrot, cut into strips
1 red bell pepper, cut into strips
1 green bell pepper, cut into strips
1/2 cup green peas
2 tablespoons cooking oil
salt and pepper to taste
Procedures:
1. In a pot, heat oil and saute garlic and onion.
2. Add pork meat and simmer until color turns to golden brown.
3. Pour water, soy sauce, bay leaves, salt and pepper. Simmer until pork is tender.
4. Add pork liver, heart and kidney, pour vinegar and simmer for 5 minutes.
5. Add carrots and simmer for 3 minutes.
6. Add green peas and bell pepper. Simmer for another 3 minutes or until sauce thicken.
7. Transfer to serving plate and serve.
Comments
comments
Powered by Facebook Comments