Filipino Style Recipe: mixed paella is another variety of complete meal dish that is usually served in any special occasion by Filipinos. It is consist of rice cooked in broth and tomato sauce with mixed seafood like squid, prawns, crabs, fish fillets or mussels, chicken meat and chorizo.
Estimated time of preparation: 15-20 minutes
Estimated time of cooking: 50-60 minutes
Good for 5-8 persons
Ingredients: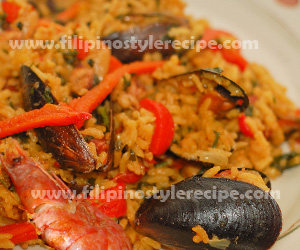 5 cups sticky rice(malagkit)
1/2 kilo prawns
200 grams squid, sliced
1/2 kilo fish fillets(salmon, tuna, etc), cut into cubes
1/2 kilo mussels(tahong)
5 gloves garlic, sliced
1 large onion, chopped
2 pieces bell pepper(red, green), sliced
1/2 kilo chicken fillet and pork, cut into cubes
2 cups chicken stock
1 pack(270 grams) tomato sauce
1 tablespoon paprika
1 teaspoon saffron
1/2 cup olive or vegetable oil
fish sauce, salt and pepper to taste
1 large chorizo, sliced diagonally(optional)
1 cup green peas(optional)
3 bay leaves(optional)
1 tablespoon parsley, chopped(optional)
4 pieces hard boiled eggs, quartered(optional)

Procedures:
Part 1
1. In a pot, place mussels then pour enough water. Bring to boil until the shells open. Drain and set aside.
2. In a pan, heat oil then fry prawns, squid and fish fillets for 2 minutes or until cooked. Drain and set aside.
3. In a same pan, fry chorizo until golden brown. Drain and set aside.
Part 2
1. In a paella pan, heat olive oil then saute garlic and onion.
2. Add chicken, pork, bay leaves and fish sauce then cook for 5 minutes.
3. Add sweet peas, paprika, saffron, tomato sauce and rice then stir until colored distribute evenly.
4. Pour chicken stock then simmer until rice is almost tender and mushy. Add more stock if needed.
5. Add parsley then season with salt and pepper to taste.
6. Arrange bell peppers, seafood and other remaining ingredients on top.
7. Continue simmering until sauce is absorbed. Transfer to serving plate then serve.
Comments
comments
Powered by Facebook Comments