Filipino Style Recipe: pork sisig is a popular spicy and sour appetizer that usually served as finger food(pulutan). Normally the pork meat comes boiled and grilled then chop into small pieces. Mix well with onions, soy sauce, mayonnaise and pepper. Stir fried until the sauce is absorb then transfer to sizzling plate with egg and calamansi.
Estimated time of preparation: 30-40 minutes
Estimated time of cooking: 15-20 minutes
Good for 2-3 servings
Ingredients: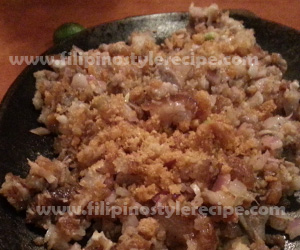 1 kilo pork meat(combination of cheek, ear and snout)
200 grams chicken liver
1 cup pineapple juice
3 cups water
1/2 cup butter
1 cup onion, minced
3 gloves garlic, crushed
3-4 chili hot peppers(siling labuyo), seeded and chopped
3 tablespoons soy sauce or liquid seasoning
3 tablespoons mayonnaise
1 teaspoon salt
1 teaspoon peppercorns
1 teaspoon ground pepper
4-5 pieces calamansi
1 raw egg(optional)
Procedures:
Part 1
1. In a pot, combine pork meat, garlic, bay leaves, salt and peppercorn.
2. Pour pineapple juice and water, simmer for 40 minutes or until tender. Drain.
Part 2
1. Grill over hot charcoal until crisp and browned.
2. Slice the pork cheeks and ears into small pieces. Set aside.
Part 3
1. In a pan, melt butter then saute ginger and onions.
2. Add chicken liver, crush the liver while cooking until tender.
3. Add chopped pork cheeks and ears and stir fry for 5 minutes.
4. Add chopped chili, soy sauce, ground pepper and mayonnaise. Mix well.
5. Transfer to sizzling plate, with raw egg on top. Serve with calamansi. Done
Comments
comments
Powered by Facebook Comments