Filipino Style Recipe: green chicken curry is popular in Thai cuisines. This is similar to traditional chicken curry but we used Thai green curry in this recipe. Usually the chicken cooked in a blend of Thai green curry and coconut milk then season with fish sauce, lime juice and sugar.
Estimated time of preparation and cooking: 20-30 minutes.
Good for 3-4 persons
Ingredients: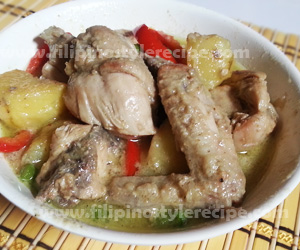 500 grams chicken fillets, cut into serving pieces
2 tablespoons Thai green curry paste
1 1/2 cup coconut milk
1 onion, chopped
2 lime leaves
1 tablespoon fish sauce
1 tablespoon lime juice
2 teaspoons brown sugar
1 tablespoon vegetable oil
2 bell peppers(green and red), strips(optional)
1 carrot, cubed(optional)
1 cup broccoli flower(optional)
Procedures:
Part 1
1. In a pan, heat oil and saute onion.
2. Add curry paste and cook for 2 minutes. Stir constantly.
3. Pour coconut milk and bring to boil. Add water if needed.
4. Add chicken and vegetables, simmer uncovered for 20 minutes or until tender.
5. Season with fish sauce, lime juice and brown sugar. Stir to combine.
6. Transfer to serving plate then serve.
Comments
comments
Powered by Facebook Comments