Filipino Style Recipe: pork hamonado or pork ham is a popular and special dish during Christmas season. Normally the meat cured and cooked in a special sweet broth until glazed and roasted.
Ingredients: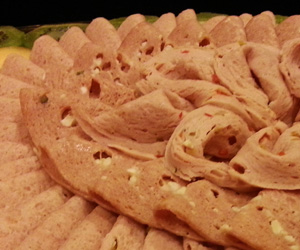 1 kilo pork leg(pigue) deboned with the skin and fat intact
1 can pineapple chunks
1 can(350 ml) pineapple juice
3/4 cup brown sugar
Marinade:
7 tablespoons brown sugar
5 tablespoons salt
1 tablespoons curing salt
Procedures:
Part 1
1. In a bowl, combine meat and marinade ingredients. Rub and mix well into the meat.
2. Cover and marinate for at least 24 hours inside the fridge.
Part 2
1. In a saucepan, transfer the meat including the marinade .
2. Add all the remaining ingredients and place the pineapple pieces on top.
3. Cooked for 30-40 minutes or until the ham is tender.
4. Turning the ham for time to time to avoid being burn.
5. Let it cool and slice into serving pieces. Serve.
Notes:
1. You may used pre-cooked ham instead of marinating pork leg.(Skip Part 1)
Comments
comments
Powered by Facebook Comments