Filipino Style Recipe: binagoongang manok or chicken sauteed in shrimp paste is similar to binagoongang baboy. Normally the chicken sauteed until light brown then cooked in shrimp paste and chili. This is usually serve together with fried eggplants. Some adds coconut milk for more flavor and creamy taste.
Estimated time of preparation: 10 minutes(plus marinating time)
Estimated time of cooking: 20-25 minutes
Good for 3-4 persons
Ingredients: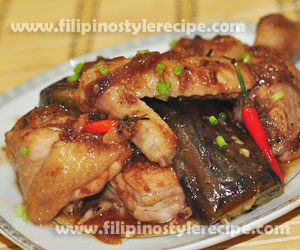 1/2 kilo chicken, cut into seving pieces
2 tablespoons bagoong alamang (pre-sauteed salted shrimp paste)
1 large eggplant, cut into slices
3 cloves garlic, minced
1 onion, chopped
2 pieces tomatoes, chopped
5 pieces calamansi, juice
1/2 cup water
2 tablespoons brown sugar
1/2 teaspoon ground pepper
4 pieces bird's eye chili(siling labuyo)
2 tablespoons vegetable oil
3 pieces green chili(siling haba)(optional)
1 teaspoon dried rosemary(optional)
Procedures:
Part 1
1. In a bowl, marinate chicken in calamansi juice and dried rosemary for 15 minutes.
Part 2
1. In the same pan, fry eggplants until color turn to brown. Put in the strainer and set aside.
Part 3
1. In the pan, heat oil and saute garlic, onion and tomatoes until soft.
2. Add chicken and continue sauteing until color turns to light brown.
3. Pour water and shrimp paste then simmer for 10 minutes or until tender. Add more water if necessary.
4. Add brown sugar, green chili and red chili then continue cooking for another 3-5 minutes in low fire.
5. Add fried eggplant then transfer to serving plate. Serve with steamed rice.
Notes:
1. You may also add coconut milk if you want a creamy taste for binagoongang manok.
Comments
comments
Powered by Facebook Comments