Filipino Style Recipe: KBL or Kadyos, Baboy at Langka is another simple and easy Filipino soup dish specially in Iloilo. This is similar to sinigang that has a sour broth. This dish is made out of kadyos(pigeon peas), baboy(pork leg), langka(jackfruit) and Batwan fruit which gives a sour taste.
Estimated time of preparation: 15-20 minutes(plus soaking time)
Estimated time of cooking: 60-70 minutes
Good for 4-5 servings
Ingredients: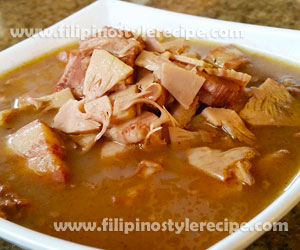 1.5 kilo pork leg, sliced
1 1/2 cup pigeon peas(kadyos)
2 cups cubed unripe jackfruit(langka), cut into larges cubes
5 pieces batwan(or 1 pack sinigang mix)
2 stalks lemongrass(tanglad)
1 onion, chopped
fish sauce or salt and pepper to taste
2 liters water(1 litre per batch)
3 pieces green chili(siling haba)
1/2 head cabbage, sliced
Procedures:
Part 1
1. In a pot, pour plenty of water and then soak the Kadyos for at least 8 hours or over night.
2. Bring to boil for 10 minutes. Drain and rinse.
Part 2
1. In a pot, Boil water with salt. Add pork and simmer for 5 minutes, drain and rinse.
2. Pour water in the same pot, arrange pork and add onion, lemongrass and beef cube. Simmer for 15 minutes.
3. Add Kadyos and simmer for another 45 minutes or until pork and Kadyos is tender. Remove scum, add water if necessary.
4. Add Langka, sampaloc mix, salt and pepper. Simmer for 15 minutes or until langka is cooked.
5. Add cabbage, adjust seasoning according to taste. Cover and remove from heat. Serve hot!
Notes:
1. You may used tamarind fruits(sampaloc) instead of batwan or sampaloc mix.
2. You may also used sweet potato tops(talbos ng kamote) instead of cabbage.
Comments
comments
Powered by Facebook Comments