Filipino Style Recipe: lechon manok or roasted chicken is another easy chicken dish but not so fast way of cooking. Normally the chicken marinade with seasonings then stuffed with lemongrass. roast in a oven or grilled in a hot charcoal until golden brown and tender.
Estimated time of preparation: 5 minutes(plus marinating time)
Estimated time of cooking: 60 minutes
Good for 4-5 persons
Ingredients: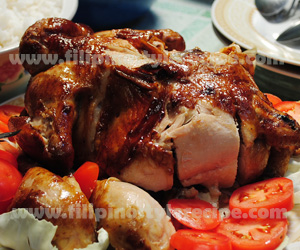 1 whole chicken
2 tablespoons soy sauce
1 teaspoon garlic powder
1/4 cup lime or calamansi juice
1 teaspoon salt
2 tablespoons ground pepper
5 stalks lemongrass(tanglad), crushed
Procedures:
1. In a big bowl, marinate chicken in soy sauce, garlic powder and lime juice for at least 4 hours or overnight.
2. Rub chicken including the cavity with salt and pepper then stuff with lemongrass.
3. Preheat oven to 400 degrees Fahrenheit then roast chicken for an hour or grill over hot charcoal until golden brown
while basting skin with butter occasionally.
Comments
comments
Powered by Facebook Comments