Filipino Style Recipe: Panna Cotta with Mango Jelly is a sweet and creamy Italian dessert. This dessert is very easy and does not require oven. Here's my quick and easy recipe for Panna Cotta with Mango Jelly. Share and enjoy cooking!
Estimated time of preparation and cooking: 10-15 minutes(plus refrigerating time)
Ingredients: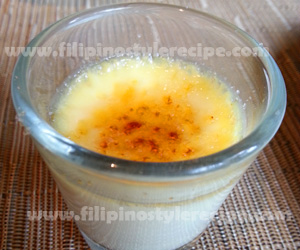 Panna Cotta:
1 cup all-purpose cream
1 cup full cream milk
2 teaspoon unflavored gelatin
1 1/2 teaspoon white sugar
Mango Jelly:
1 large sweet ripe mango, peel and cut into cubes
1/2 cup white sugar
1 tablespoon unflavored gelatin
2 cups water
Procedures:
Part 1
1. In a bowl, combine all purpose cream, milk, sugar and gelatin. Mix for 5 minutes or until gelatin dissolves.
2. In a pan, simmer mixture over low heat for 15 minutes. Strain to discard any particles.
3. Pour panna cotta 1/3 of serving cup. Refrigerate until firm.
Part 2
1. In a bowl, dissolved gelatin in 1-1/2 cup water. Set aside for 10 minutes.
2. In a blender, combine mango, water and sugar. Blend until smooth. Strain to discard any fibers.
3. In a pan, combine mango mixture and dissolved gelatin then simmer over low heat for 5 minutes or until slightly thicken.
4. Pour mango-gelatin mixture over panna cotta. Refrigerate for at least 4 hours or until firm.
5. Serve from the serving cup or transfer into serving dish top with mango slices. Enjoy!
Comments
comments
Powered by Facebook Comments