Filipino style recipe: beef tapa is another popular Filipino dish that is usually served during breakfast with fried rice and egg together with acahara(picked papaya strips). This is similar to chicken tapa and pork tapa. Normally the meat prepared in thin slices and marinated overnight then fry until tender.
Estimated time of preparation: 10 minutes, (plus marinating time)
Estimated time of cooking: 15-20 minutes
Good for 3-4 persons
Ingredients: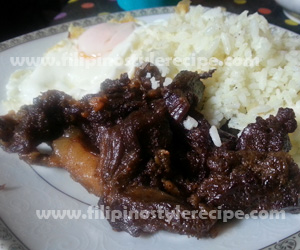 500 grams beef sirloin, sliced thinly
3 tablespoons cooking oil
2 cups water
Marinade:
4 cloves garlic, minced
1/2 cup soy sauce
3 tablespoons lime or calamansi juice
3 tablespoons brown sugar
salt and pepper to taste
1 tablespoon oyster sauce(optional)
1 teaspoon cayenne pepper(optional)
Procedures:
Part 1
1. In a bowl, combine beef and marinade. Mix well then cover and marinate overnight inside the fridge.
Part 2
1. In a pan, pour water and bring to boil.
2. Add cooking oil and marinated beef, cook until water evaporates and beef color turns to golden brown and tender.
3. Transfer to serving plate. Serve with fried rice and egg.
Comments
comments
Powered by Facebook Comments