Filipino Style Recipe: pesto pasta is an easy and healthy Italian pasta dish. Pesto is made of processed basil, pine nuts, extra virgin olive oil, salt and pepper then usually served with pasta or bread.
Estimated time of preparation and cooking: 15-30 minutes.
Good for 3-4 person
Ingredients: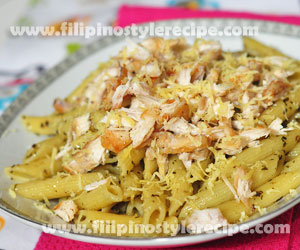 200 grams Penne pasta or any pasta
3/4 cups fresh basil leaves, chopped
3 tablespoons pine nuts or roasted pili nuts or walnuts
1/3 cup extra virgin olive oil
1/2 cup grated Parmesan cheese or feta cheese
salt And pepper to taste
2 chicken breast fillet, fried and flakes(optional)
2 whole tomatoes, diced(optional)
Procedures:
Part 1
1. In a large pot, prepare the pasta based on cooking instructions. Set aside.
Part 2
1. In a food processor or blender, process chopped basil, pine nuts, salt and pepper until blended.
2. Add extra-virgin olive oil then continue blending until combined. Add more olive oil if needed. Set aside.
3. Prepare pasta on pasta tray, pour the pesto sauce on top then add chicken flakes, tomatoes and grated cheese. Toss together then Serve!
Notes:
1. You may also used peeled and deveined shrimps instead of chicken.
2. You may also used pesto pasta sauce mix which is available in grocery stores instead of doing the pesto sauce by yourself.
Comments
comments
Powered by Facebook Comments