Filipino Style Recipe: Stir fry snow peas and mushrooms is another easy yet healthy food. Normally the snow peas and mushrooms comes stir fried then cooked in a blend of cornstarch, water and soy sauce.
Estimated time preparation and cooking: 5 minutes
Good for 4 persons
Ingredients: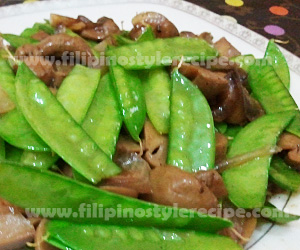 2 cups fresh snow peas(sitsaro), trimmed
1 1/2 cups sliced mushrooms
1 1/2 teaspoons cornstarch
1/2 cup water
1 tablespoon soy sauce
1 chicken cube(bouillon cube)
2 olive oil
Procedures:
1. In a pan, heat olive oil and stir fry snowpeas and mushrooms.
2. In a bowl, combine cornstarch, water, soy sauce and chicken cube. Mix until well blended.
3. Pour the mixture in a pan, simmer for 2 minutes or until thickens. Serve hot.
Comments
comments
Powered by Facebook Comments