Filipino Style Recipe: beef teriyaki soup is a soup dish made of cooked or left-over beef teriyaki then cooked and simmered with vegetables, uncooked rice and teriyaki sauce.
Estimated time of preparation: 15-20 minutes(plus marinating time)
Estimated time of cooking: 30-40 minutes
Good for 2-3 servings
Ingredients: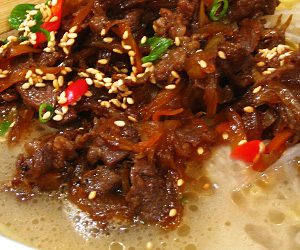 1/2 kilo beef sirloin, sliced thinly into strips
3 tablespoon teriyaki sauce
1 carrots, cut into matchstick strips
2 cups broccoli florets
1/3 cup long-grain rice
1 thumb-sized ginger, grated
3 cloves garlic, minced
4 cups water
1 beef cube(Bouillon cube)
1 tablespoon olive oil
1 cups unsweetened apple juice(optional)
1 tablespoon sesame seeds, toasted(optional)
spring onions for garnishing(optional)
Marinade:
3 tablespoons soy sauce
2 tablespoons vinegar
1 tablespoon brown sugar
1/2 tablespoon ground pepper
1 tablespoon salt
Procedures:
Part 1
1. In a bowl, combine beef, vinegar, soy sauce, sugar, salt and pepper. Marinate for 30 minutes.
Part 2
1. In a saucepan, heat oil and stir fry beef over low heat until golden brown.
2. Pour the marinade and teriyaki sauce, cover and simmer for 5 minutes until tender.
3. Add water, apple juice, carrots, garlic, ginger, beef cube and uncooked rice. Cover and simmer for 15 minutes.
4. Adjust seasoning by adding more sugar, water or teriyaki sauce. Stir well.
5. Add broccoli and simmer for 2 more minutes.
6. Transfer to serving bowl then sprinkle with toasted sesame seeds, spring onion and red chili.
Comments
comments
Powered by Facebook Comments