Filipino Style Recipe: Egg pie is another popular Filipino dessert or snack that is almost available in all bakeries. Egg pie is similar to egg custard tart, it is made up of eggs, milk, sugar and then mix until well blended. Pour the mixture into a pie crust then bake until firm and done.
Estimated time of preparation: 10-15 minutes
Estimated time of baking: 60-70 minutes
Ingredients: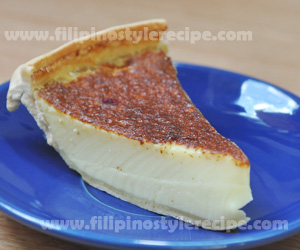 2 pieces pie crust
Filling:
1 can(375 ml) evaporated milk
1/4 cup water
3 pieces raw eggs + 1 raw egg, separate egg yolk and egg white
1 cup sugar
1 teaspoon vanilla extract(optional)
Procedures:
Filling
1. In a "microwave safe" bowl, combine evaporated milk and water then heat in microwave for 2 minutes.
2. In a large bowl, combine hot milk, 3 eggs, 1 egg yolk, vanilla then gradually add sugar while mixing.
3. Using an electric mixer, beat the egg white until soft peaks then fold into the mixture until the foams separate.(this will give a brown color on top of egg pie after baking)
Baking
1. Pour the filling on the pie crust then bake over 350 degrees Fahrenheit for about 15 minutes.
2. Lower the heat to 325 degrees Fahrenheit then continue baking for 40 minutes or until toothpick inserted in the filling comes out clean.
3. Remove from oven and let it cool for 2 hours before serving.
Notes:
1. Pie crust is available in grocery stores(frozen section). But if you prefer to do it by yourself, here's the recipe on how to make a pie crust. Please click here…
Comments
comments
Powered by Facebook Comments