Filipino Style Recipe: pie or pie crust is usually made of a pastry dough made of flour, butter, salt, sugar and cold water then mix until dough is formed. Pie crust usually contains various filling made of fruits, veggies, meat or any sweet ingredients. The crust can be purchase in grocery store under frozen section but if you prefer to do it by yourself, here is the recipe.
Estimated time of preparation: 10-15 minutes(plus chilling time)
Ingredients: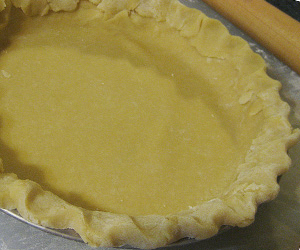 2 1/2 cups all-purpose flour
3 tablespoons sugar
1/2 teaspoon salt
1 cup unsalted butter, cut into cubes
1/4 cup cold water
Procedures:
1. In a bowl, combine flour, sugar and salt then mix well.
2. Add butter then mix thoroughly. Gradually pour cold water then mix until well blended.
3. Gather the dough into a ball shape then refrigerate for 30 minutes.
4. In a clean flat surface, sprinkled with flour then flatten dough using a rolling pin until 1/8 inch thick.
5. In a pie pan, arrange and press the flattened dough then cut off the excess.
6. Crimp the edges then refrigerate while preparing the filling.
Comments
comments
Powered by Facebook Comments