Filipino Style Recipe: onion rings is an easy appetizer dish and usually served in a fast-food chain. Normally the onions cut into rings then dipped in a batter then deep fried until golden brown and crisp. Served with ketchup or mayonnaise.
Estimated time of preparation and cooking: 20 minutes.
Ingredients: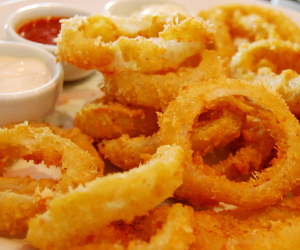 2 large yellow onions, cut into rings
1 egg, beaten
3/4 cup flour
1 cup breadcrumbs
salt and pepper to taste
vegetable oil for frying
1/2 teaspoon paprika(optional)
1 1/2 cups ice-cold water
Procedures:
Part 1
1. In a large bowl , soak onion rings in a ice-cold water for 10 minutes.
1. In a bowl, combine flour, paprika, salt and pepper. Mix well.
2. Add onion rings and dip in beaten egg then coated onto breadcrumbs.
Part 2
1. In a frying pan, heat oil and fry the onion rings for 2 minutes or until golden brown and crisp.
2. Drain on paper towels then serve with dip.
Comments
comments
Powered by Facebook Comments