Filipino Style Recipe: A quick spaghetti carbonara is an easy and quick pasta dish that only takes 20 minutes or less. It is usually consist of pasta and a creamy white sauce topped with ham, mushrooms, olives, bell pepper and Parmesan cheese.
Estimated time of preparation and cooking: 15-20 minutes.
Good for 3-4 persons
Ingredients: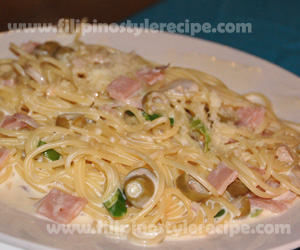 200 grams spaghetti pasta
3/4 cup full cream milk
1/2 cup grated Parmesan cheese
4 gloves garlic, minced
1 small-sized onion, minced
100 grams sweet ham, diced
1/2 cup olives, sliced
1/2 cup green bell pepper, diced
1/2 cup button mushrooms, sliced
2 tablespoons olive oil
Procedures:
Part 1
1. In a large pot, prepare the pasta based on cooking instructions. Drain and set aside.
Part 2
1. In a pan, heat oil and saute garlic and onion then add ham and cook for 2-3 minutes.
2. Add mushrooms, olives and bell pepper then stir cook for 3 minutes.
3. Add pasta, milk and Parmesan cheese then simmer 3 minutes or until beginning to thicken.
4. Adjust seasoning according to taste. Transfer to serving plate then top with grated Parmesan cheese.
Comments
comments
Powered by Facebook Comments