Filipino Style Recipe: tortang talong with pork giniling or eggplant omelet with ground pork is a simple yet delicious breakfast dish. It is consists of broiled eggplants and pork giniling soaked in egg mixture before frying. You may also used leftover adobong giniling to take less time for you to prepare this dish.
Estimated time of preparation and cooking: 30-40 minutes
Good for 2 servings
Ingredients: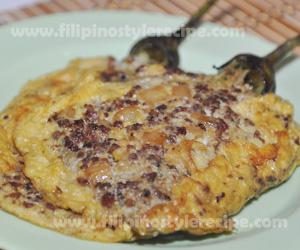 2 large-sized eggplants(talong)
4 eggs, beaten
salt and pepper to taste
cooking oil for frying
Pork Giniling:
1/2 cup ground pork(giniling)
2 cloves garlic, minced
1/2 onion, minced
2 tablespoons soy sauce
2 tablespoons vinegar
1 tablespoon cooking oil
Procedures:
Part 1
1. Broil eggplants until skin are charred and blister.
2. Let it cool then peel off the skin and retain the crown and the stem.
3. In a large plate, flatten the eggplant using fork.
4. In a bowl, combine 2 eggs and pepper then whisk well
5. Pour over eggplants then soak for awhile. Set aside.
Part 2
1. In a pan, heat oil then saute garlic and onion.
2. Add pork giniling until brown then season with soy sauce, vinegar, salt and pepper according to taste.
3. In a separate bowl, beat the remaining eggs then add pork giniling. Mix well.
Part 3
1. In a pan, heat oil and place eggplant(soaked in eggs) then scoop and pour the pork giniling(mixed in eggs).
2. Fry until both sides are golden brown then drain on paper towels. Serve with ketchup.
Comments
comments
Powered by Facebook Comments