Filipino Style Recipe: Ginisang sitaw at kalabasa or sauteed sting beans and squash is a simple yet nutritious vegetable dish, basically it's a combination of string beans and squash sauteed and simmered until tender. Add with shrimp or pork make the dish more delicious and truly enjoyed by most Filipinos.
Estimated time of preparation: 15 minutes
Estimated time of cooking: 15-20 minutes
Good for 3-4 persons
Ingredients: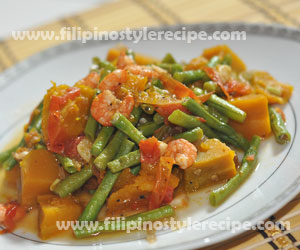 1/2 squash(kalabasa), peeled and cut into cubes
1 bundle string beans (sitaw), cut into 2inch long
1 cup medium-sized fresh shrimp, remove heads and discard shells
2 tbsp cooking oil
3 cloves garlic, minced
1 medium-sized onion, chopped
2 medium-sized tomatoes, chopped
1 cup water
fish sauce and ground pepper to taste
Procedures:
1. In a pan, heat oil then saute garlic and onion.
2. Add tomatoes then continue sauteing for 5 minutes or until soft.
3. Add shrimp and stir fry until red.
4. Add vegetables and stir cook for a minute, then add water and simmer for 5 minutes.
5. Season with fish sauce and pepper according to taste.
6. Cook until veggies are tender then transfer to serving plate and serve.
Notes:
1. You may also use pork meat instead of shrimps.
Comments
comments
Powered by Facebook Comments