Filipino Style Recipe: Lumpiang Togue or lumpiang gulay is another typical Filipino meryenda(mid-afternoon snack). It is normally consists of mung bean sprouts, carrots, tofu and seasonings wrapped in lumpia wrapper then deep fried until golden brown and crisp.
Estimated time of preparation: 20-30 minutes
Estimated time of cooking: 15-20 minutes
Ingredients: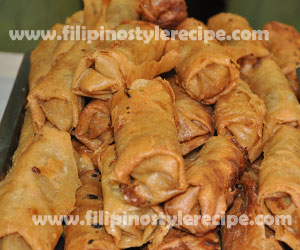 500 grams togue(mung bean sprouts)
1 carrot, julienned
2 cloves garlic, minced
1 onion, minced
2 tablespoons oyster sauce or soy sauce
1 cup fried tofu, chopped
1 tablespoon vegetable oil
1/8 teaspoon ground pepper
15-20 pieces spring roll wrapper(lumpia wrapper)
cooking oil for deep frying
1/2 cup dried shrimps(optional)
Procedures:
Part 1
1. In a pan, heat oil then saute garlic and onion.
2. Add dried shrimps then continue sauteing for a minute.
3. Add tofu and carrots then cook for another minute.
4. Season with oyster sauce and pepper then mix well.
5. Add beansprout then cook for 2-3 minutes or until cook. Let it cool and set aside.
Part 2
1. Place 1/4 cup of veggies in a line shape at the middle of the wrapper.
2. Fold over the bottom edge to the center then fold the two sides towards the center and roll.
3. Use a bit egg to seal the last edge. Repeat until all wrapped up.
Part 3
1. In a frying pan, heat oil deep enough that wrapped lumpia is half-submerged.
2. When the oil is hot enough, deep fry lumpia until golden brown and crispy.
3. Drain on paper towel then serve with spicy vinegar.
Comments
comments
Powered by Facebook Comments