Filipino Style Recipe: pork katsudon is another popular Japanese dish made of deep fried pork cutlet(pork tonkatsu), egg and katsudon sauce. Katsudon is a combination of Japanese word "tonkatsu" which means pork cutlet and "donburi" means rice bowl. This is one of the best seller dish in every Japanese restaurant.
Estimated time of preparation: 3 minutes
Estimated time of cooking: 5 minutes(plus tonkatsu cooking)
Good for 1 serving
Ingredients: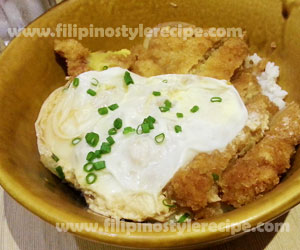 1 pork tonkatsu(recipe)
1/2 cup water
1 tablespoon soy sauce
1 teaspoon brown sugar
1/2 white onion, sliced
1 egg, beaten
1 cup steamed rice
Procedures:
1. In a sauce pan, combine onion, soy sauce, brown sugar and water then bring to boil.
2. Add pork tonkatsu then pour over the beaten egg. Cover and simmer until the sauce absorb and the egg is cook.
3. In a serving bowl, put hot steamed rice then place over the pork tonkatsu and egg. Spinkle with spring onion then serve immediately.
Comments
comments
Powered by Facebook Comments