Filipino Style Recipe: Sardines Sotanghon Soup is another easy and simple soup dish. The sardines in tomato sauce sauteed and cooked together with sotanghon noodles and veggies. I use spicy sardines because I usually serve this dish during rainy season.
Ingredients: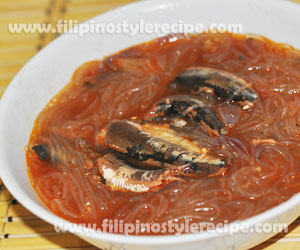 2 small cans spicy sardines in tomato sauce
200 grams sotanghon noodles, cut into desired length and soak in water until soft
1 tomato, chopped
1 onion, chopped
2 cloves garlic, minced
2 tablespoons olive oil
2-4 cups water
3/4 cup cabbage, shredded(optional)
1/4 teaspoon chili flakes(optional)
spring onion for garnishing(optional)
Procedures:
1. In a pan, heat oil and saute garlic, onion, chili flakes and tomatoes until soft.
2. Add sardines including tomato sauce, break big chunks then stir cook for a minute.
3. Add water then bring to boil, season with salt and pepper according to taste.
4. Add sotanghon noodles then simmer for 2 minutes. Add water if necessary.
5. Add cabbage then simmer for another minute then remove from heat.
6. Transfer to serving bowl then sprinkle with spring onion. Serve with steamed rice.
Comments
comments
Powered by Facebook Comments