Filipino Style Recipe: shrimp and broccoli pasta is a simple yet healthy dish consists of shrimp and broccoli sauteed and stir cooked in olive oil with chili flakes and garlic. Toss in spaghetti pasta with lemon juice, white wine and chopped parsley. This is another mouth-watering dish but easy to prepare.
Estimated time of preparation: 10 minutes
Estimated time of cooking: 15 minutes(plus cooking time for pasta)
Good for 4-5 persons
Ingredients: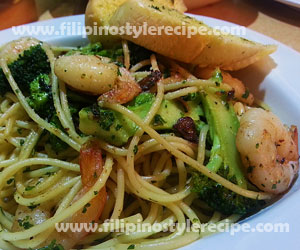 400 grams spaghetti pasta or any pasta
500 grams shrimp, peeled but retain the tail
2 cups broccoli florets, halves
5 cloves garlic, minced
1/2 teaspoon chili flakes
1 lemon, juice
1/4 cup white wine
3 tablespoons olive oil
3 tablespoons butter
1 tablespoon parsley, chopped
Procedures:
Part 1
1. In a large pot, prepare pasta based on cooking instructions. Drain and set aside.
Part 2
1. In a pan, heat oil medium heat then melt 2 tablespoons butter.
2. Add garlic and chili flakes then saute for a few seconds.
3. Add shrimp then stir cook for a minute. Remove from the pan and set aside.
4. Add broccoli then cook for a minute or until tender. Remove from the pan and set aside.
Part 3
1. Add lemon juice and wine then bring to boil until reduce in half.
2. Add and melt the remaining butter then turn off the heat.
3. Add pasta, shrimp, broccoli and parsley then toss to coat.
4. Transfer to serving bowl then serve with toasted garlic bread.
Comments
comments
Powered by Facebook Comments