Filipino Style Recipe: Braised pork in sweet soy sauce is similar to pork adobo and pork asado. It is consists of pork marinate and cook in a blend of sweet soy sauce, garlic, onion and peppercorn. This dish has a sweeter and more flavorful taste than the usual pork adobo.
Estimated time of preparation: 10 minutes(plus marinating time)
Estimated time of cooking: 40 minutes
Good for 2-3 persons
Ingredients: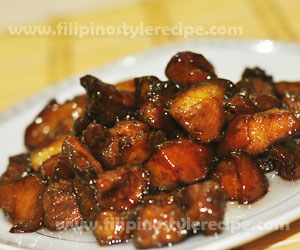 1/2 kilo pork, cut in serving pieces
1/4 cup sweet soy sauce
2 gloves garlic, minced
1 onion, chopped
10 pieces peppercorns
2 cups water
1/2 teaspoon cornstarch(dissolved in 1/4 cup water),(optional)
sugar, salt to taste
Procedures:
Part 1
1. In a pot, combine pork, garlic, onion, sweet soy sauce and peppercorn for 30 minutes.
Part 2
1. Pour water then simmer in a medium heat for 30 minutes or until pork is tender. Add water if necessary.
2. Adjust seasoning according to taste then pour dissolved cornstarch.
3. Simmer until the sauce has thicken and start to render oil.
4. Remove from heat then transfer to serving plate then serve with steamed rice.
Notes:
1. If sweet soy sauce is not available, you may dissolved 1/4 cup brown sugar in 1/4 cup dark soy sauce.
Comments
comments
Powered by Facebook Comments