Filipino Style Recipe: glazed mackerel with water spinach is a low-carbohydrate dish. It is usually consists of mackerel fillet marinade in a blend of honey, brown sugar and soy sauce. Stir fried until tender then served with wilted water spinach as side dish.
Estimated time of preparation and cooking: 50 minutes
Good for 4-6 servings
Ingredients: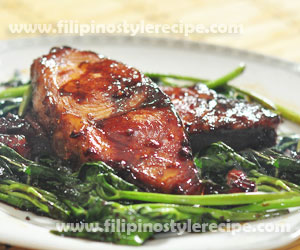 2 slices mackerel(tanigue) fillets, 1 inch thick
1 lemon, juice
1 tablespoon butter or margarine
2 gloves garlic, minced
1 tablespoon brown sugar
1 tablespoon honey
1 tablespoon soy sauce
1 teaspoon olive oil
salt and pepper to taste
2 bunches fresh water spinach, trimmed
2 tablespoons white wine(optional)
Procedures:
Part 1
1. In a bowl, marinate mackerel fillets in lemon juice for 10-15 minutes. Drain and set aside.
Part 2
1. In a sauce pan, melt butter then saute garlic.
2. Add brown sugar, honey and soy sauce then bring to boil until reduces in half. Keep stirring.
3. Pour the sugar mixture over the mackerel then sprinkle with salt and pepper. Set aside for 10 minutes.
Part 3
1. In a frying pan, heat olive oil and fry mackerel fillets while basting with sugar mixture.
2. Brushing the top with mixture so the fish begins to caramelize.
3. Cook until the side turns to golden brown and begins to caramelize both sides.
4. Remove from the pan and set aside.
Part 4
1. In a sauce pan, melt the butter then add spinach, salt and pepper.
2. Pour wine then cook for a minute or until the leaves begin to wilt. Drain.
3. Drain then transfer to serving plate and arrange mackerel on top. Serve immediately!
Comments
comments
Powered by Facebook Comments