Filipino Style Recipe: stir fried kangkong or water spinach is an easy yet healthy dish. The procedures is very simple, normally water spinach toss oyster sauce mixture in a blend of oyster sauce, red chili, fish sauce and brown sugar then stir fry in olive oil until wilted.
Estimated time of preparation: 3-5 minutes
Estimated time of cooking: 2 minutes
Good for 1-2 persons
Ingredients: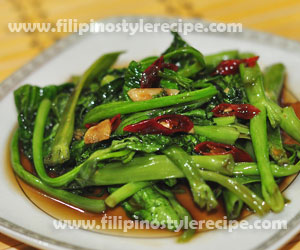 1 bunch water spinach(kangkong), trimmed
2 gloves garlic, minced
4 pieces red chili(labuyo), sliced
2 tablespoons oyster sauce
1 tablespoon fish sauce
2 tablespoons brown sugar
2 tablespoons olive oil
Procedures:
Part 1
1. In a large bowl, combine garlic, red chili, oyster sauce, fish sauce and brown sugar.
2. Add kangkong then toss to coat.
Part 2
1. In a pan, heat oil then add all the ingredients.
2. Stir fry to 1-2 minutes or until wilted. Serve immediately.
Comments
comments
Powered by Facebook Comments