Filipino Style Recipe: Ginataang pusit or squid in coconut cream is another easy and simple squid dish. The squid cook in coconut cream and other spices until tender. Avoid to overcook the squid because it will become rubbery texture and tough.
Estimated time of preparation: 8 minutes
Estimated time of cooking: 5-8 minutes
Good for 3-4 persons
Ingredients: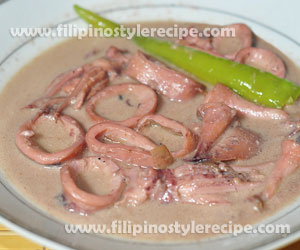 1 kilo fresh squid
2 cups coconut cream
4 cloves garlic, minced
1 onion, chopped
1 small piece ginger, sliced
3 long green peppers(siling haba), chopped(optional)
2 pieces bay leaves(laurel)
4 tablespoons calamansi or lime juice
2 tablespoons cooking oil
salt and pepper to taste
Procedures:
Part 1
1. To clean the squid, pull the head and remove the plastic-like cartilage.
2. Then push the head in, popping out the hard "beak" and discard it.
3. Rub off the outer skin leaving the white meat then wash the squid very well under running water.
4. Cut into rings then set aside.
Part 2
1. In a pan, heat cooking oil then saute the ginger, onions and garlic.
2. Add the squids and calamansi juice then stir cook for a few seconds.
3. Pour coconut cream, bay leaves, green chili then bring to boil. Add a little water if necessary.
4. Season with salt and ground pepper then simmer uncovered for a minute(Don't overcooked, squid will become tough).
5. Remove from heat then serve hot immediately.
Comments
comments
Powered by Facebook Comments