Filipino Style Recipe: Ginisang upo with sardines is another easy and simple vegetable dish. The white squash or upo is cook together with sardines until done. I always prepare this dish if I want a healthy dish in a tight budget.
Estimated time of preparation: 20 minutes
Estimated time of cooking: 15-20 minutes
Good for 3-4 servings
Ingredients: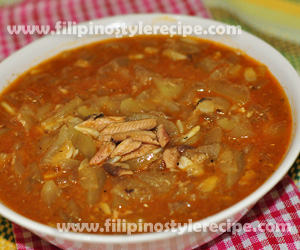 1 medium-sized White Squash(Upo), peeled, discard seeds and sliced
1 large can sardines in tomato sauce
5 cloves garlic, crushed
1 medium-sized onion, diced
1/4 cup water
2 tablespoon cooking oil
fish sauce or salt and pepper to taste
2 medium-sized tomatoes, diced(optional)
Procedures:
1. In a pan, heat oil over medium heat then saute garlic and onions.
2. Add white squash then cover and simmer for another 5 minutes.
3. Add sardines and water then simmer for 3 minutes or until the white squash is cook.
4. Adjust seasoning with fish sauce and pepper.
5. Transfer to serving plate then serve hot with steamed rice.
Comments
comments
Powered by Facebook Comments