Filipino Style Recipe: Shrimp Gambas is another mouth watering shrimp dish that usually served as main dish or pulutan(finger food). The shrimp marinated in lemon juice then sauteed and cooked in a tomato sauce together with bell peppers, carrots and chili.
Estimated time of preparation: 15 minutes(plus marinating time)
Estimated time of cooking: 10-12 minutes
Good for 3-4 persons
Ingredients: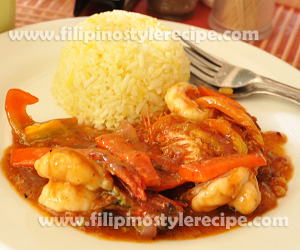 1/2 kilo shrimp, peeled and deveined
3 gloves garlic, minced
1 onion, diced
1 red bell pepper, diced
250 grams tomato sauce
1 tablespoon cornstarch or flour(dissolved in 1 cup water)
1 carrot, cut into slices
3 tablespoons olive oil
salt and pepper to taste
1/4 cup lemon juice(optional)
a dash of chili flakes(optional)
1/4 cup mushrooms, sliced(optional)
Procedures:
Part 1
1. In a bowl, marinate shrimp in lemon juice for 15 minutes.
Part 2
1. In a pan, heat olive oil and saute garlic and onion.
2. Add carrots, mushrooms, and bell pepper then continue sauteing for a minute.
3. Add tomato sauce, chili flakes and dissolved flour then simmer for 3 minutes or until thicken.
4. Add shrimps then season with salt and pepper then cook for 2 minutes or until tender.
5. Transfer to serving plate then serve immediately with garlic rice.
Comments
comments
Powered by Facebook Comments